Sailing Activities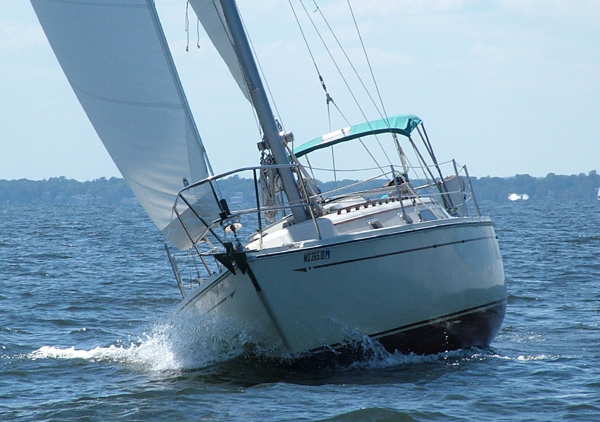 Over 100 boats owned by individual members sail with SOS. They range in size from 25 to over 50 ft. Most sailboats used in club activities are in the 30 - 45 foot range.
The SOS sailing season is launched each spring with the "IRS" cruise in mid April (so we can heave a collective post-tax sigh of relief) and extends through late fall with the Blue Lips cruise in early November.
Weekend cruises or day sails are held almost every weekend in the season. On all sails, members are participate as crew, actively taking part in all aspects of sailing the vessel, preparing, and serving meals, and cleaning up the vessel at the end of the trip.
On a typical weekend cruise, 15 or more boats sail to a scenic Chesapeake Bay anchorage where they "raft-up" either in one of SOS's famous circle or linear rafts for the evening to socialize. In addition, there are several weekend cruises to marinas or yacht clubs on the Chesapeake Bay for "party" cruises.
Day sails are used to enhance member skills as well as recreational sailing. Members frequently meet afterwards for dinner or drinks at a local restaurant.
The club also sponsors several seven to 14 day extended cruises on the Chesapeake Bay.
New members are required to complete a basic skills orientation before going on weekend cruises. While not a sailing school, SOS members enjoy helping other members develop their sailing skills. Inexperienced sailors are encouraged to seek basic sail training outside the Club through local learn-to-sail programs and sailing schools.
Each year SOS sponsors one or two bareboat cruises outside the Chesapeake Bay. Destinations have included Maine, Greece, the Pacific Northwest and the Caribbean, with more planned.